Basic Statistics Terminology
Statistics Big Picture
Statistics provides a way of organizing data to  extract information on a wider and objective  basis than relying on personal experience
Data Gathering
Data Understanding
Data Analysis/Interpretation
Data Presentation
Population & Sample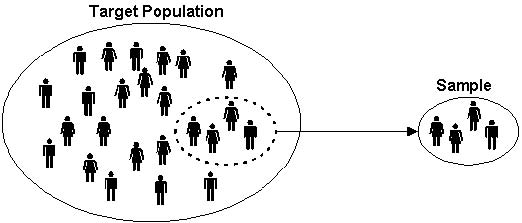 Census: Gathering data from the whole population of interest. 
For example, elections, 10-year census, etc.
Survey: Gathering data from the sample in order to make  conclusions about the population.
 For example, opinion polls, quality control checks in  manufacturing units, etc.
Data Gathering or Sampling Techniques
There are four types of sampling techniques
Convenience Sampling
Convenience sampling is a type of non-probability sampling that involves the sample being drawn from that part of the population that is close to hand. This type of sampling is most useful for pilot testing.
Eg: Online Polls, Asking your friends etc.
2. Random Sampling
Each member has equal chance of being selected.
3. Systematic Random Sampling
Example: Supermarket chooses every 10th or 15th customer entering the supermarket  and conduct the survey.
4. Stratified Sampling
Divide the data into several relevant strata and then  sample from each strata
Eg: For getting an opinion  on demonetization, one  choice of strata might be  state-wise analysis. We  get 20 random volunteers  from each and every  state.
5. Cluster Sampling
Divide the  population in to  groups or clusters.  Then select a one  or a few clusters  and survey  everyone from the  chosen subset.
Parameter & Statistic
Parameter: A descriptive measure of the population. For example, population mean, population variance, population  standard deviation, etc.
Statistic: A descriptive measure of the sample. For example, sample mean, sample variance, sample standard  deviation, etc.
Mean – μ
Variance – σ2
Standard Deviation – σ
Mean – x
Variance – s2
Standard Deviation – s
Descriptive & Inferential Statistics
Descriptive Statistics: Data gathered about a group to reach conclusion about the same group.
Inferential Statistics: Data gathered from a sample and the statistics generated to reach conclusion about the population from which the sample is taken. Also known as Inductive Statistics
These are the basic terminologies that are required for Statistics for Data Science